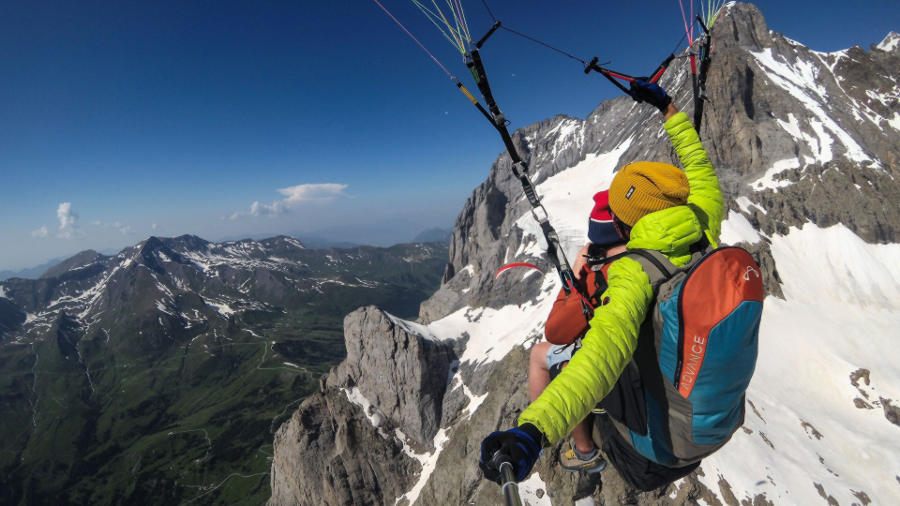 First Extra Large
First -> Grindelwald
Like First Panoramic but we soar in the upcurrant to fly higher and further.
Only possible in summer at good thermally conditions.
Costs: 320 CHF incl. Insurance (Cable car ticket is not included) 
Foto/video service: 40 CHF (optional)
We meet at the bottom station of Firstbahn (meeting point top station First on request). We take the gondola ride up to First mountain where we take off at an altitude of 2150m / 7000ft.
After a short introduction, we run a few steps together down a gentle slope and suddenly we glide silently into the air. The flight takes us high above the Grindelwald valley whilst the majestic mountain scenery of Wetterhorn, Schreckhorn and Eiger Northface always lies in front of us. An unforgettable experience for all those who are enthusiastic about the idea of flying!
After the landing you can check the photos and videos the Pilot made during the flight and get it for 40 CHF directly from the Pilot.
From the landing field Bodmi it takes 5 minutes

walk back
to the bottom station of Firstbahn.
Location: Grindelwald First, 2150m/7000ft asl
Duration: 2 h (about 40-50 min flight time)
Meeting points: Firstbahn bottom station, First top station
What to bring: Weather adapted clothing, solid shoes, sunglasses
Please inform us when booking if your weight is more than 100 kg or less than 40kg!
For direct booking and last minute
book directly by phone

+41 79 77 99 000
or Whatsapp text message


+41 79 77 99 000
or via our booking offices on site